India has completed 30 years of the liberalization regime. Over the years India has become one of the fastest-growing economies in the 21st century and the reforms agenda continues to be in focus to revive economic growth. Liberalization provides greater autonomy to the business enterprises in decision-making and eliminates government interference.
Significant changes since 1991:
Fiscal stabilization: Abolition of export subsidies, FRBM Act, budget support to loss-making public-sector units, banning the use of ad-hoc treasury bills.
Relaxation of foreign investment norms to attract FDI
Tax rate reforms like VAT, GST, reduction of corporate taxes, rationalization of tax slabs, etc.
Financial sector reforms – Autonomy to PSBs, giving teeth to SEBI, allowing the use of global depository receipts, etc.
Reforms in the exchange rate policies – full current account convertibility was introduced in India.
Although the growth rate has increased, the fruits of development haven't been equitably distributed because of a sharp rise in inequality.
Economic situation during the pandemic
Unemployment: India's unemployment rate sharply rose to 7.11% in 2020.
India's debt to GDP ratio increased from 74% to 90% during the COVID-19 pandemic.
India's Gross Domestic Product (GDP) contracted 7.3% in 2020-21, as per provisional National Income estimates released by the National Statistical Office.
Steps were taken for Economic revival:
Atmanirbhar Bharat Abhiyaan

PM Garib Kalyan Yojana

PLI schemes for multiple manufacturing sectors

Credit guarantee schemes for MSME, NBFCs

An Rs.20 lakh crore revival package.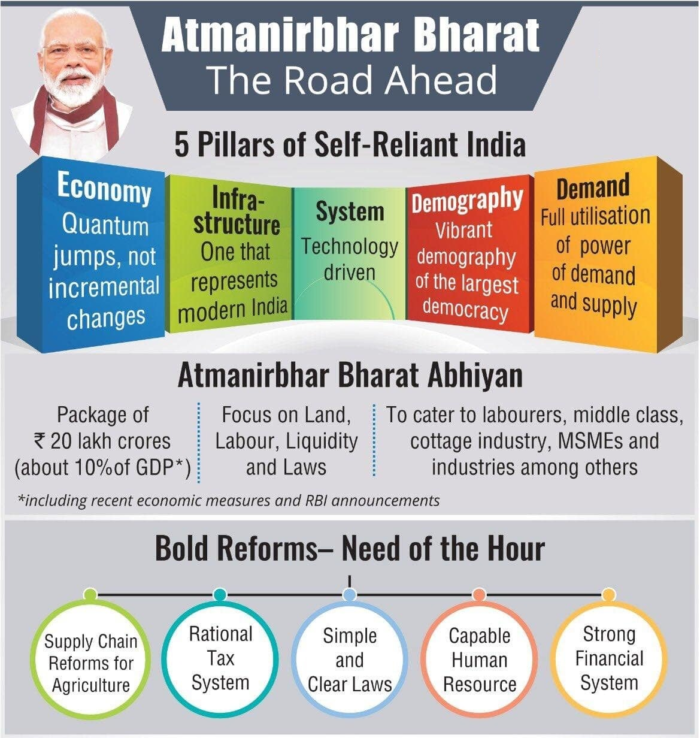 .